Floor Tiles
Natural stone slabs between tradition and trend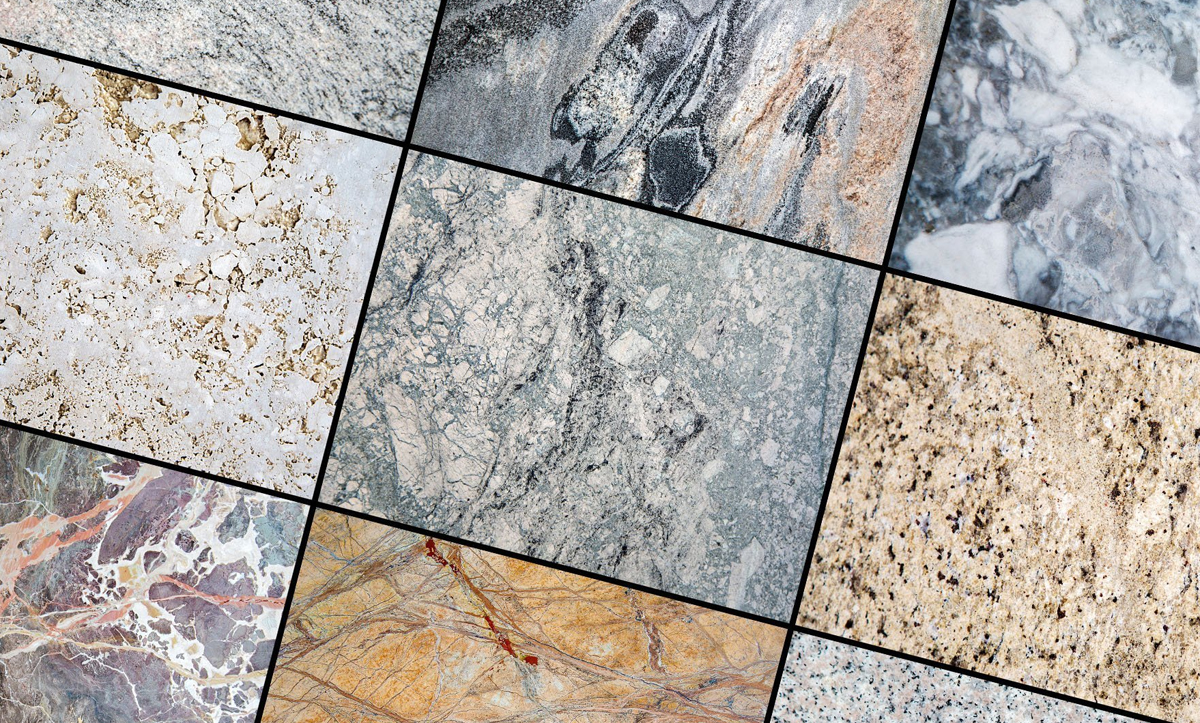 Natural stone slabs differ from the usual slabs and tiles in indoor and outdoor areas. While natural stone slabs are extracted from one piece in quarries, other slabs are often manufactured using industrial processes. Cast slabs are cheaper; they cannot match the beauty and exclusivity of natural stone slabs. The special effect has been known and loved for generations. Whether as part of slate roofs, as pavement slabs or as tiles for the interior, the noble natural elements are currently experiencing particular demand. Nature is becoming more and more a trend.
Use of natural stone slabs
Natural stone slabs are used both outdoors and indoors. Depending on the application, different types of stone are used to make them suitable for the relevant area. Garden tiles have to withstand the effects of nature even more intensely than indoor tiles. There are also differences in the design.
Natural stone slabs in the interior
Whether in the bathroom, kitchen or living room, natural stone slabs are a popular trend in interior design thanks to their combination with glass surfaces and glass tiles. Whether as a worktop that encloses a washbasin, or as tiles in the wet area and also in the living room, the material brings nature into your own four walls, whether on walls or floors. The design, whether minimalist or with colored nuances through other materials, looks traditional and high-quality. Commercially available tiles cannot keep up in terms of effect. In comparison, these seem boring and unimaginative. There are numerous possibilities indoors. The natural stone slabs work best when they can be found in different design elements in several rooms. Natural stone slabs in the bathroom and kitchen give your own four walls a special look. Indoor use goes back to antiquity, when natural stone slabs were reserved for the nobility and other upper classes. The current trend reversal means that it is available as an option for everyone.
Natural stone slabs outside
Outside, natural stone slabs can be found on fountains, garden ponds, on the terrace or as garden tiles. The garden looks even more natural with the naturally shaped garden tiles. Whether a near-natural garden, which is specifically left to its own devices in some places, or a well-tended English garden is equipped with the garden tiles, does not matter. The effect is achieved in all gardens. For use as garden tiles, certain types of stone must be selected in order to withstand the effects of the environment.

Advantages at a glance
Natural stone slabs offer design options that are not possible with industrially manufactured stone slabs or tiles. Due to the many different types of stone, various colors can be combined. Different designs result from the type of processing. If natural stone e.g. is hewn, the edges and corners of the stones are very uniform and straight. In contrast, split natural stone is put together like a mosaic. The surfaces appear more irregular and yet very elegant and effective. In addition to the various possible combinations, the monochrome minimalism also offers a very nice solution. It is not without reason that the stealthy natural stone-glass look is always a welcome furnishing element. Nature is as varied as the various ideas in the area of interior and exterior furnishings with natural stone slabs. Benefit from the puristic to strikingly colorful combinations. Before the panels are used for indoor or outdoor use, we recommend that you obtain advice on the material from a specialist.