Borders
High-quality borders for designing high-quality tiled walls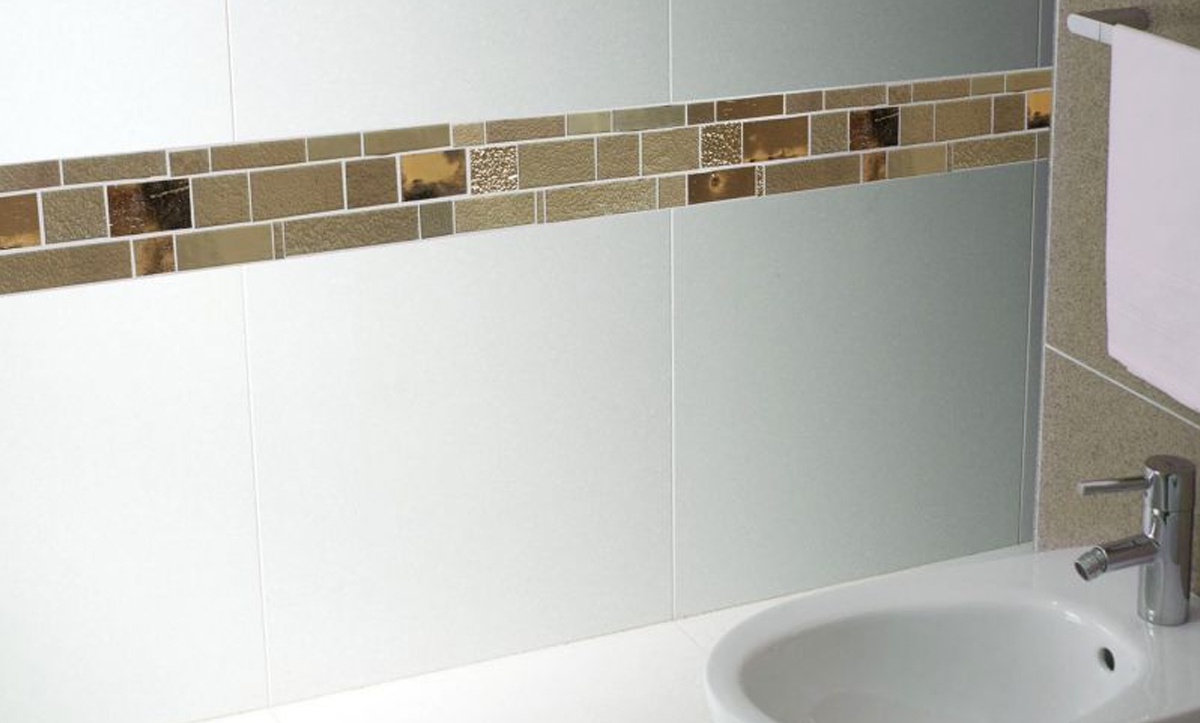 A high-quality border profile can take on many functions on a tiled wall. On the one hand, the decorative element is able to visually enhance your tiled wall and stylishly delimit a certain area. Borders are available in different ways and are a real quality product. They are ideal for the decorative design of joints and tiled walls and are always to be understood as an interesting focal point. You can choose from different surfaces that are available as tile profiles. Borders can be attached to the tiles without any problems and are available in different sizes and designs. The high variability of materials is also a reason why more and more customers are relying on the possible uses of a border profile and using creative energy to decorate a tiled wall. Borders cut a particularly good figure, especially in combination with high-quality cement tiles.
Easy installation of a border profile
With a border profile, visually appealing wall coverings can be designed indoors. Available in individual profile series, you can easily order your variant and combine it with your wall tiles. Variants in size and width as well as material also allow you to set individual accents in your own four walls. This makes it possible to use borders in a targeted manner and to order them in different thicknesses depending on the area on the side edges. Many borders are combined with outer wall corners on the side edges to ensure an appealing finish. Thicker cement tiles can also be combined with this type of tile profile. In the long term, certain areas can be delimited in this way and allow individual design according to your own requirements. A tile profile always exists in different lengths and widths and is available as an easy-to-use material in specialist retail quality. Due to the high quality of the workmanship, borders are ideal for both inside and outside
Stainless steel profile with excellent properties
A stainless steel profile has the advantage that stainless steel as a material is particularly resistant and elegant in its appearance. This makes it possible for you to have a design alternative to other borders in this way. Resistant to moisture and durable due to the rustproof stainless steel, individual wall surfaces can be elegantly delimited with such a stainless steel profile. Individual areas can be designed individually and allow a very decorative element to be added in addition to the pure functionality. At the same time, a stainless steel profile ensures that the border of your cement tiles is optimally protected. The easy attachment of such a tile profile allows a high degree of flexibility and is not tied to a specific design condition in the interior. The particularly noble look is supported by the high-gloss effect of the stainless steel and guarantees for a long time that the additional decorative element appears particularly high-quality in your bathroom.
Border profile with easy maintenance
With a border profile made of stainless steel, you have the long-term opportunity to maintain a particularly high-quality look. Above all, the easy care and durability of the material make it possible for an elegant look to exist even after years. In this way, you can deal with corresponding elements not only in the bathroom, but also in the kitchen or living area and use them in a targeted manner. In contrast to models made of plastic, a border profile made of stainless steel is the best way to use the decorative options in a high quality. The acid resistance of stainless steel also means that cleaning is child's play. In combination with different tiles you can achieve interesting effects in your bathroom. So it is possible to combine different types of cement tiles with each other and on the one hand to delimit them with a border profile and still connect them to each other. Here, too, different patterns and structures can be implemented, which you can choose according to your own taste. You can also easily order the individual models in the online shop and adapt them to your dimensions.